NPR Church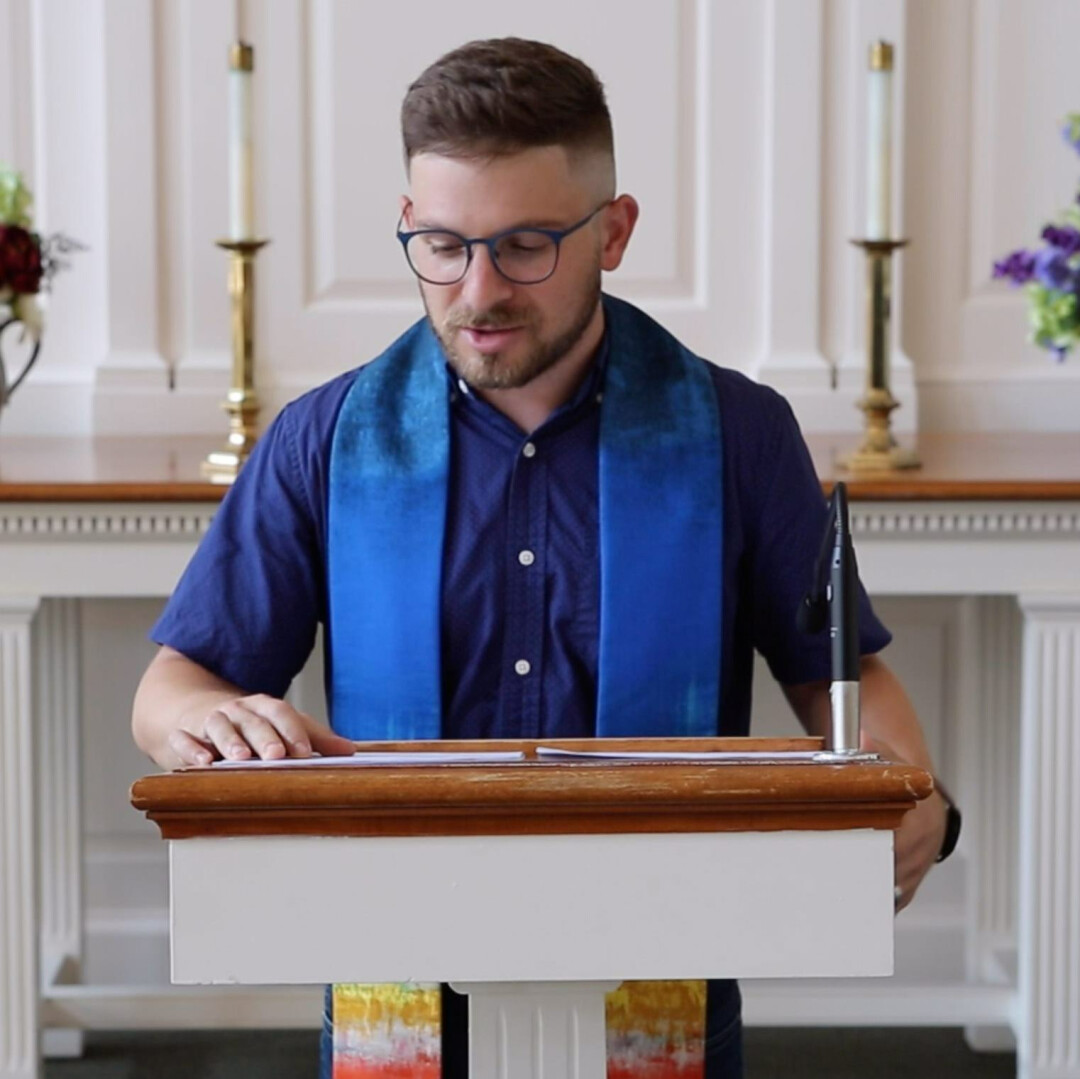 Speaker: The Rev. Jake Miles Joseph
August 1, 2021
Sermon for Sunday, August 1, 2021
The Rev. Jake Miles Joseph
Ephesians 4:1-16 NRSV
NPR Church
A friend who grew up in the Evangelical flavor of Christianity hadn't been to church in over a decade. He reached out and asked me to recommend a progressive and inclusive church in his town to visit. This happens frequently. When asked to recommend a church, I do not default to the UCC since there often isn't a UCC church nearby or the local UCC church isn't a healthy or progressive one. So, after scouring about a dozen church websites in his city, I recommended the local United Methodist congregation. It has a minister I know through mutual friends from seminary. She is awesome! The website had the Reconciling Ministries (Open and Affirming for the UMC) logo on their homepage, a list of social justice ministries they were engaged with, and a picture of a happily intergenerational community like First Church. "Perfect! He will love it!"
On Sunday, I eagerly awaited his response to the church visit. I got my answer through a Facebook Post he put up with a smiling picture of himself standing by the church's rainbow sign only minutes after the service. "I just had a fascinating visit to First United Methodist Church," he wrote, "totally different than anything I have experienced before. I wouldn't really call it worship as I know it. I did learn a lot though! It was like going to NPR Church. I might go again or try something else."
"NPR Church"—a church that feels and acts in worship like a giant weekly episode of Prairie Home Companion plus a summary of the week's news. Is that what we are like? Forget Meet the Press, were we in the Mainline Church (UCC, UMC, DOC, ELCA, PCUSA, progressive Episcopal, the UUA, and all the other acronym denominations) hosting weekly editions of Meet the Preacher? At first, I remember being offended to his remarks and interpreting them as insulting. How dare he experience our worship as Mainliners as a form of a weekly news roundup! Didn't he see the Holy Spirit at work in our erudition, our pedantic pedagogies, our hipster hermeneutics, our cute limerick liturgy, and our fancy pillars? How could be call us NPR Church?
I spent that week journaling on this topic. What does it mean to be an "NPR Church"? The Scripture that finally came and calmed my heart and reframed the meaning of my friend's astute observation was this, paraphrased this time, from Ephesians, Chapter 4:1-16:
"I beg you to lead a life worthy of the calling to which you have been called, with all humility and gentleness, with patience, bearing with one another in love, making every effort to maintain the unity of the Spirit in the bond of peace. There is one body and one Spirit, just as you were called to the one hope of your calling, one Lord, one faith, one baptism…. The gifts God gave were that some would be apostles, some prophets, some evangelists, some pastors and teachers, to equip the saints for the work of ministry, for building up the body of Christ, but speaking the truth in love, we must grow up in every way into the one who is the head, into Christ, from whom the whole body, joined and knit together by every ligament with which it is equipped, as each part is working properly, promotes the body's growth in building itself up in love."
Maybe, I concluded, we don't have to be good at everything. Maybe we are NPR Church (a little hokey and informative) and that is good and okay.
Here is the take-away: We aren't called to be all things to all people. As one mentor asked me recently, "What is it that you are meant to do? What is yours to do?" We can't do it all at the same time, and that is okay. The simple grace of today's Scripture, the forgotten part as we do Church together, is that maybe it is okay that we are the NPR-style church. This is what we do well, so let us do it with excellence rather than try and be all of the body parts of Christ at once.
I am a subscriber to Richard Rohr's Daily Meditation Emails through the Center for Action and Contemplation. On July 25th, this modern scholar and sage wrote:
Living in a transitional age such as ours is scary: things are falling apart, the future is unknowable, so much doesn't cohere or make sense. We can't seem to put order to it. This is the postmodern panic. It lies beneath most of our cynicism, our anxiety, and our aggression. Yet, there is little in the biblical revelation that ever promised us an ordered universe. The whole Bible is about meeting God in the actual, in the incarnate moment, in the scandal of particularity. It is rather amazing that we ever tried to codify and control the whole thing. Chaos often precedes great creativity, and faith precedes great leaps into new knowledge. The pattern of transformation begins in order, but it very quickly yields to disorder and—if we stay with it long enough in love—eventual reordering. Our uncertainty is the doorway into mystery, the doorway into surrender, the path to God that Jesus called 'faith.'[1]
Rohr offers us a great grace and an acceptance of being honest with ourselves. Faith, connection, and being a small part of something much bigger all offer us grace for ourselves and others in this time of countervailing demands and expectations.
The message of this passage becomes even more apparent as we look at the context and history of The Letter to the Ephesians. According to another book in the Bible, the Acts of the Apostles, Chapter 19:1-10, Ephesus wasn't just a place where Paul visited as a guest preacher a couple of times, nor was it a sidenote in his ministry or a random place to which he addressed his letters, but it is a place where Paul had his most settled pastorate. He was called there. This is a place Paul knows intimately. It is a church community whose foibles and shortcomings he knows well.
Paul, according to Scripture and scholars, was in Ephesus - in what is modern day Turkey - for upwards of three years teaching and using the place as a basecamp.
The Scripture in Acts reads: "While Apollos was at Corinth, Paul took the road through the interior and arrived at Ephesus…. Paul entered the synagogue and spoke boldly there for three months, arguing persuasively about the kingdom of God. But some of them became obstinate; they refused to believe and publicly maligned the Way. So Paul left them. He took the disciples with him and had discussions daily in the lecture hall of Tyrannus. This went on for two years, so that all the who lived in the province of Asia heard the word of the Lord. God did extraordinary miracles through Paul, so that even handkerchiefs and aprons that had touched him were taken to the sick, and their illnesses were cured and the evil spirits left them."
Of all of the churches that Paul founded, it is Ephesus that was his settled call where he spent among the most time in ministry in person.
The Letter to the Ephesians that some scholars attribute to Paul while imprisoned in Rome near the end of his life, others attribute to the Deutero-Pauline (or second Paul) meaning it might have been written by Paul's followers after his death in the style and spirit of Paul. That doesn't make it any less important for us as modern-day Christians, rather it just makes it all the more fascinating and layered. This important text is Paul or Paul's community writing to the church where Paul really worked and which had hence fallen into conflict. It is a letter filled with hope and aspirations for how things could work for community. The basic subject of this letter is pastoral. To the people and the community Paul and Paul's followers know best who are trying to do it all and are finding conflict as a result—Paul offers the gift of the image of the Body of Christ. An historical hermeneutical interpretation shows that this a pastoral letter to the church that Paul actually pastored. Here is the pastoral message: We don't have to do or be everything at once. There is a whole body and we can be different parts at different times. Nothing is asked from us all at once. What a relief!
Friends, as we emerge from the pandemic, we are seeing a doubling-up of expectations, events, and yet we are still faced with the stressors of still living with new variants, warnings, and ethically incomprehensible and irreconcilable social demands. Modern "successful" living in 2021 is ten times more impossible than it was in 2019.
We are asked to be experts in public health for ourselves and our families based on the changing daily recommendations in different settings (don't get it wrong or someone will publicly shame you on Simply Guilford, Instagram, or Twitter as the worst person on earth that day)! Be Public Relations managers of your image on Social Media, keep up appearances at all times, join and contribute to committees and boards if you join a church or faith community, financially be philanthropic, to parent perfectly and give kids the best opportunities and get them into the best colleges, don't disappoint anxious parents, stay healthy and fit and beautiful and young looking going to the gym every day, be a good active listener, practice self-care, stay in touch with family members near and far away and mend fences where they are broken, be experts excelling in our friendships and taking every opportunity afforded us to make new friends, demonstrate leadership, save for retirement at 65 (maybe younger if possible), save for college funds for your kids or grandkids, pay student loans, give to the capital and annual pledge campaign, be a social justice champion and make sure you get the credit and titles you deserve and have earned printed in the Steeple and the Landmark newsletters, always have a clean house, maintain your car, only eat organic sustainably-sourced foods, always remember your reusable shopping bags, pay your dues, remember all your bills, buy a house, maintain a boat if you have one, clean your car, have a dog or cat, have a garden in the summer and a clear driveway and sidewalk in the winter, cut the grass, keep the pets healthy, know your neighbors and be a good neighbor, take care of aging parents and relatives, and now we are also supposed to attend twice the number of events as we did in 2020 as all of the postponed and delayed events collide along with the new demands of life. How many wedding and delayed memorial services do you have to attend this year?
Y'all, in this midsummer morning's homily, I have a simple message for you… a simple pastoral letter addendum to add to Paul's from Ephesus. "Successful" Modern Living as individuals is statistically and ethically impossible. We have all been set-up for failure—especially—as I have observed in a keeping-up appearances town like Guilford, Connecticut here on the Shoreline. The modern living of 2021 is more impossible than ever as the events of the past two years, the terrible traumas, and the image demands and ethical conflicts collide.
The Pauline message for Ephesus and us is simple for us today. We cannot be the whole Body of Christ all on our own at the same time. It was so important to Paul, this idea of sharing the responsibility of what was possible even in the ancient times, that it is the centerpiece of the letter he (or his community) wrote to them even after he was no longer their local minister. This is his last pastoral letter to help a people in overdrive. We cannot all do it 100% of the time.
We need the Body of Christ, the others, the community to help us survive, especially in 2021 and beyond. In fact, it is the way it is meant to be. Let go of trying to do it all. You cannot do it all.
We are seeing the result of people burning out. No, it isn't even burning out. It is people losing their ability to do what they are good at because they are asked to be too many people at once. We are losing good ministers, young aspiring political leaders, athletes at the Olympic level, and teachers/educators who shouldn't be lost this way. We are seeing in ourselves, in our institutions, in the athletes at the Olympics, in our colleagues, and in our congregations, what happens when we ignore what Paul is getting at, when we try to do and be everything at once to all people.
We cannot live up to the demands and ethics, especially as good 2021 New England Puritan Progressives. We are seeing the results of decades of keeping up with the mythical Jones Family colliding with the impossible contradictory expectations, ethics, and scheduling issues of a pandemic. Be social and emotionally healthy, but don't see anyone. Support the economy, but don't do harm to nature. Be your authentic self and ask questions, but never the wrong question in public. We are seeing that it just can't be done. Maybe the image of the Body of Christ offers a solution and some grace this week. Grace and the Body of Christ help us reset.
Remember my initial response to the UMC, UCC and our peers being called NPR-Church? I was horrified, but maybe we are what we are. We just aren't great at kinetic and embodied worship experience. Look around y'all—I am the only millennial or Gen Y person here this morning, and I am paid to be here. That just isn't our gift. We are heady and a little stuffy, but we love each other and the world and do a kick ass job at social justice. After my initial indignation that he didn't find our congregations worshipful, I just accepted that maybe we are NPR Church… and that is okay with me and it is okay with God. We just have to be who we are and do what we can.
Being NPR Church isn't so bad. It is sort of a nice complement if you think about it. NPR Church- reliable, informed, clever, mellow, organ music, rolling our shoulders way back, breathing in the grace of God, wordy and well informed! We aren't for everyone. Not everyone will find a home here. You cannot do it all. For today, just know that I see you. I see what is happening to you as your pastor. I feel it. We are all coming into a new age where authentically sensing where we are on any given day in the Body of Christ will be more important than ever. We don't have to be the whole body all at once. In fact, we are called not to even try. Amen.
[1] Adapted from Richard Rohr, The Wisdom Pattern: Order, Disorder, Reorder (Franciscan Media: 2020), 15–16.
The Rev. Jake Miles Joseph
Associate Minister