TWO AMAZING MEMOIRS
I love reading memoirs because truth is more astounding than fiction, and learning about the struggles and challenges of others and how they have overcome them is inspirational. Memoirs can also take us to all corners of the globe and illuminate the way the faith of others has led them to interpret the world and answer the deep questions we all ask.
I have just finished the memoirs of two awesome women; We Are Not Here to be Bystanders by Linda Sarsour and See No Stranger: A Memoir and Manifesto of Revolutionary Love by Valarie Kaur. Both women have called on the deep resources of their faith to sustain them in public witness to love and inclusiveness in the world and resistance to the forces of evil and hate in our present day. Linda is a Palestinian Muslim woman who grew up in Brooklyn and, after years of community activism in New York City, became a national co-chair of the Women's March. She is presently the co-founder and executive of MPower Change, the first Muslim online organizing platform. Valarie Kaur grew up in an extended Sikh family in the Central Valley of California. She is an activist, filmmaker, lawyer and founder of the Revolutionary Love Project. She has traveled the U. S. responding to hate crimes against Sikh communities, listening to their travails and helping them heal.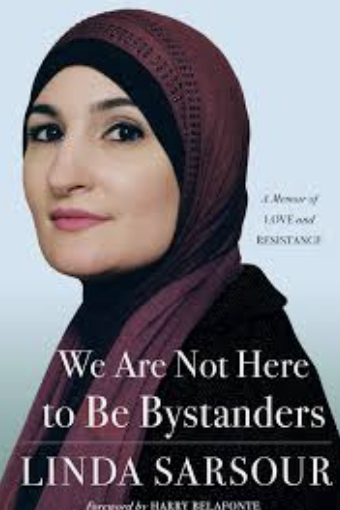 Both these women have endured chilling hate speech and death threats as a result of their witness for justice. Both of them had strong, encouraging mentors in their youth who believed in their ability to make a difference. Both have had to deal with demons within and to learn that self-care is imperative for activists. And both of them call on the power of love to overcome fear and hate and build a better world. Linda echoes John Lewis's call to "Redeem the soul of America." Valarie challenges us to a practice of Revolutionary Love that includes Seeing No Stranger, Loving Opponents by Tending Their Wounds and Loving Ourselves by Breathing and Pushing (a birth metaphor).
I am in awe of the bravery and compassion of these two women, and I highly recommend their books.
Gay Harter
October 12, 2020
"First Church Reads" is a feature section of The Steeple where staff members or members of the church may be invited to offer book and other recommendations that specifically help deepen spiritual life. Please email Jake if you would like to write a resource or book recommendation.