On July 20 First Church was blessed by a visit from Elena Huegel, Mission Co-Worker through Global Ministries, a joint ministry of the UCC and the Disciples of Christ. Elena spent many years in Chile where she helped to develop a partnership between the Pentecostal Church of Chile and the Mass Conference of the UCC. She is now working in Chiapas, the southern-most province of Mexico.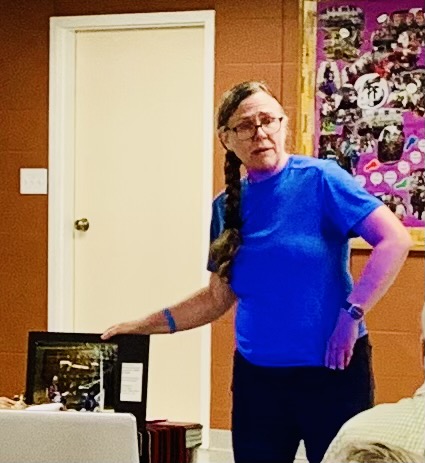 Elena told many stories about the Mayan peoples who inhabit the area of southern Mexico and northern Guatemala. She shared that there is a "men's story", a "women's story" and a "children's story". She is particularly interested in learning the "women's story". Among the Mayan a person who has your same name is considered "a soul mate", and she was fortunate to be welcomed into their community by an extraordinary woman with her name, Elena. Elena Huegel is learning weaving from her soul mate's mother and gradually hearing the stories of the women of the community. Mayan spirituality judges a person by the quality of "kindness" they display, their concern for others, and the Mayan Elena carefully pointed out to Elena H who was "kind", in other words who in the community could be trusted.
Trust is of the utmost importance as there are many tensions in this community both among the local people and with the Mexican government. The border is heavily militarized with the support of the U.S. in order to prevent immigrants from Central America from crossing into Mexico on their way to the U.S. The Mayan peoples have traditionally practiced a blend of Catholicism and indigenous spirituality, but in the last century many Protestant denominations have proselytized in this area, and their churches tend to be very conservative, so there is tension among Christians. Most young women are married by the age of 14 and have very little chance for schooling. Elena told stories of her friend and family members who have struggled against the cultural expectations in order to get an education.
Elena is the third generation of Mission Workers with the Disciples in her family and was born and raised in Mexico. She is the coordinator of the Retonos en Las Ruinas: Esperanza en El Trauma (Roots in the Ruins; Hope in Trauma) program, which seeks to provide spiritual accompaniment to nourish hope and develop resilience in the midst of conflict and emotional trauma. She trains local women in conflict transformation and holistic peace education, while learning from them.
On a personal note, I wore to the presentation a huipil (traditional Mayan blouse) which I had bought in the capital of Chiapas in 1954. ( See picture). Elena was very taken with this huipil, which she explained was made of hand-spun thread, hand woven on a back strap loom and hand embroidered. It seemed entirely appropriate for it to be returned to the land of its origin, so I gave it to Elena. She will use it in her upcoming presentations and take it with her when she returns to Chiapas. This connection made the day especially precious to me, and I am so grateful to Global Ministries, to Elena, to Clyde and Betsy Work who encouraged us to keep the connection between GM and First Church, and to all of you who came to the program.
Gay Harter, PAJ Committee Member