Habitat for Humanity ReStore: Reuse, Recycle, Repurpose, Restore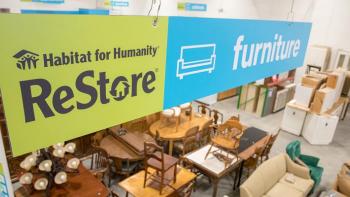 Are you looking to downsize your home or are you in the midst of summer cleaning of your attic or basement? Have items in good condition to donate, recycle? Are you looking to purchase any tools or usable building materials, gently-used furniture, doors, windows or cabinets? Habitat for Humanity of Greater New Haven has a donation-based retail store, called the ReStore, which is open to the public, and all proceeds from ReStore sales benefit Habitat's building of single-family homes in New Haven County. The ReStore sells donated furniture, building materials, working appliances, and many other items at very reasonable prices. To see current items for sale, check out the ReStore's Facebook page.

Pick-up by truck is available by calling (203-774-7560) the ReStore to schedule.

The ReStore is located in Wallingford, CT at 286 South Colony Road (Route 5), #4554.




The store hours are: Tuesday, Wednesday, Thursday and Saturday from 10:00AM to 6:00 PM; and Sunday, Monday and Friday from 10:00AM to 4:00 PM. The ReStore accepts payment in cash, all major credit cards and checks with an ID. All sales are final; however, most appliances and electronics have a 30-day warranty and may be returned, if necessary, with the original receipt for ReStore credit.

Volunteers with experience in retail and basic appliance and furniture repair are always needed at the ReStore. To volunteer, contact Allison Mangles, Habitat Volunteer Coordinator at 203-785-0794, Ext. 110 or at . Volunteering at the ReStore is a great way to support Habitat's mission to build safe, affordable homes alongside families in our community.

Habitat for Humanity exists to eliminate substandard housing by building simple, decent homes with Habitat families, which in turn contributes to the revitalization of New Haven's neighborhoods. Members of our church have been volunteering at Raise the Roof and Habitat homes for more than 25 years!

Visit www.raisetheroofct.org or www.habitatgnh.org for more information about volunteer opportunities.

Nancy Leckerling,
Environmental Ministry Team (EMT) Co-Chair