Dear First Church,
Do you remember Betsy and Clyde Work? Sadly, for me, I arrived at First Church after both Betsy and Clyde had passed away, but I feel blessed by the many ministries they began. It is an honor to work here where the Work Family had such great vision for a better world. This week, I learned even more about their lasting legacy of love and hope.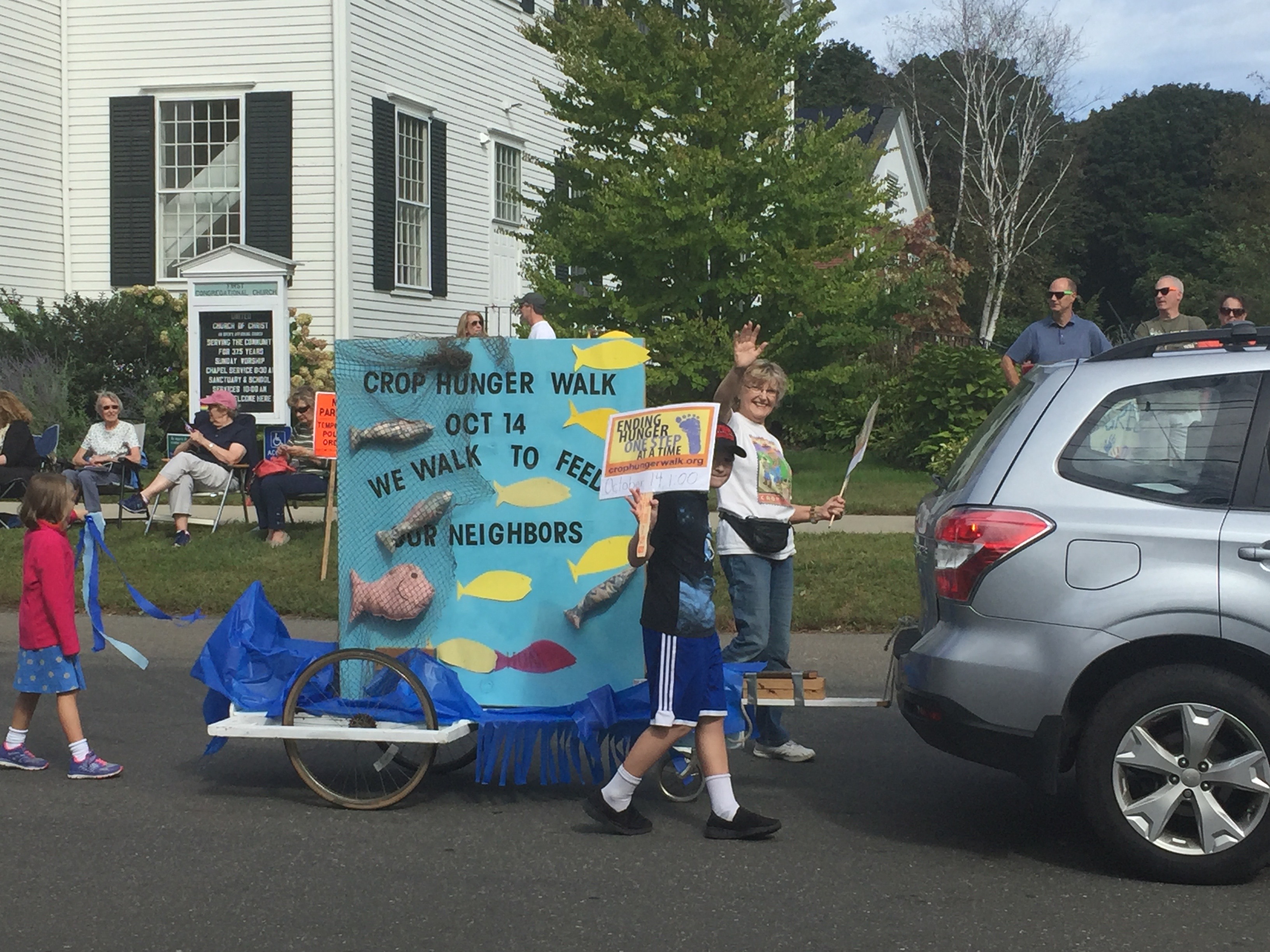 This past week, my ministry was blessed by a meeting with a person named Adam Smedberg—the New England Regional coordinator for Church World Service (CWS), Blanket Sunday, and the CROP Walk. Adam shared story after story with me about how this congregation (which I am blessed to serve as a minister) has changed the world, worked to address hunger and food insecurity both locally and internationally, provided countless volunteers, and innovated with CROP Walk. It all started with Betsy and Clyde, but it has expanded into new initiatives and efforts. For example, the night walk that Judi Wallace and PF established is a unique, local, and vibrant emerging best practice for walk-peer-to-peer fundraising created and perfected right here in Guilford! After talking with Adam, I wanted to learn more about CROP Walk in Guilford, Madison, and Branford, how it started, and what it Spiritually means to our members. So…as an extravert who loves the phone… I started making telephone calls, and here is some of what I heard:
From Kathy Abbatello, Former Shoreline CROP Walk Coordinator: "For many years, I volunteered with Clyde and Betsy Work to keep the very important work of CROP Walk going. Very little of the money raised goes to the money raisers. Most of it goes to people who need a source of clean water, a roof over their heads, and a means of supporting their families after a natural disaster. I'm willing to mentor anyone who is interested in carrying on this global mission."
From Debbie Peluse, 2021 Shoreline CROP Walk Treasurer: "First Church's first involvement in CROP walk began in 1997 with Merrillyn Garcia, leader of PF did a CROP walk just with PF. According to the CROP walk website "with its inception in 1969, CROP Hunger Walks are "viewed by many as the granddaddy of charity walks," notes the Los Angeles Times (Oct. 26, 2009)." At some point Betsy Work took over for CROP in the early 2000's. Betsy contacted multiple groups and all the area churches. For a number of years people from Guilford would meet on the Guilford Green and march down Rt 1 to the Madison Green and Madison would do the opposite. PF always had a large contingent, of maybe 50 but at least another 100 others from Guilford churches and other groups like Interact Club from GHS, would walk from Guilford. Top amount of money collected I'm sure approached $20,000 in some of those years. I have walked for many years. Giving up one afternoon walking to help those who are hungry here and around the world has become a long tradition for me."
From Judi Wallace: "About 5 years ago, I asked the PF Leadership team how we could increase involvement among teens in the community's annual CROP Walk. PF has its regular meetings on Sunday evenings, so they asked if we could do the walk at our meeting, in the dark, with fun glow sticks and things! That is how the Annual Glow-in-the-dark CROP Hunger Walk was created. We post glow in the dark posters along our route with information and statistics about world hunger. We also have representatives from CWS join us at PF to share stories and info about their work! Thank you!!" Here is an image from before the pandemic: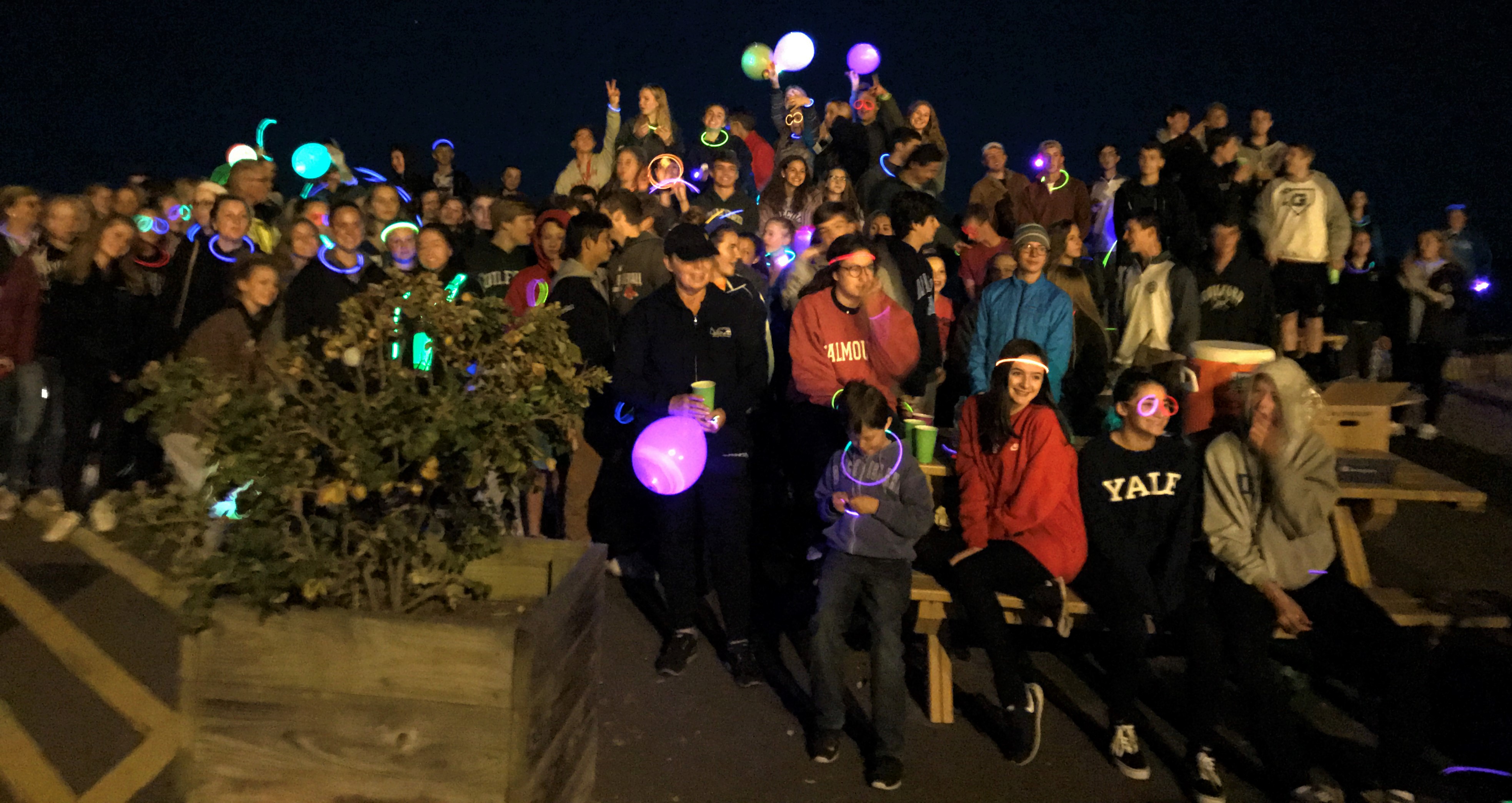 From The Rev. Dr. Ginger Brasher-Cunningham, Lead Minister: "I have always enjoyed walking with others to support local and wider communities. The facts about food insecurity and need for clean water motivate me to raise funds and have conversations as we walk. In Guilford, Pilgrim Fellowship has taken the mantle of walking and providing great opportunities for all to donate!"
Sometimes God just brings a question. In this case the question was, "I wonder about how this all got started and how we can make sure it carried on?" The response, the passion, the Holy Spirit were all contained in the responses.
Debbie Peluse has agreed to be the treasurer this year for the Shoreline CROP Walk. Thank you, Debbie! Judi Wallace is happy to continue organizing the PF Night CROP Walk. Do you feel called to help us coordinate the daytime walk with the Branford, Madison, and Guilford communities? There is great enthusiasm in Madison and Branford to help us organize and Kathy Abbatello is happy to help mentor and guide. If interested please email me or . What a legacy of love we have in this initiative! I am excited to see what God will do next as we creatively build on the past with hope for the future as we proactively address food insecurity and hunger locally and around the world.
It all starts with a first step.
Prayerfully, Jake