PF Spring looks different again this year. Spring is usually a time for me to really gear up for the PF service trip, often to some place very remote with more than 100 of my favorite people. Last year I held on to that nervous excitement of planning a trip right up until the middle of March. I kept hoping things would change and we could fill up the two charter buses and head to Jonesville, Virginia Unfortunately, it never happened; nor did our planned trip to Boston in the summer of 2020.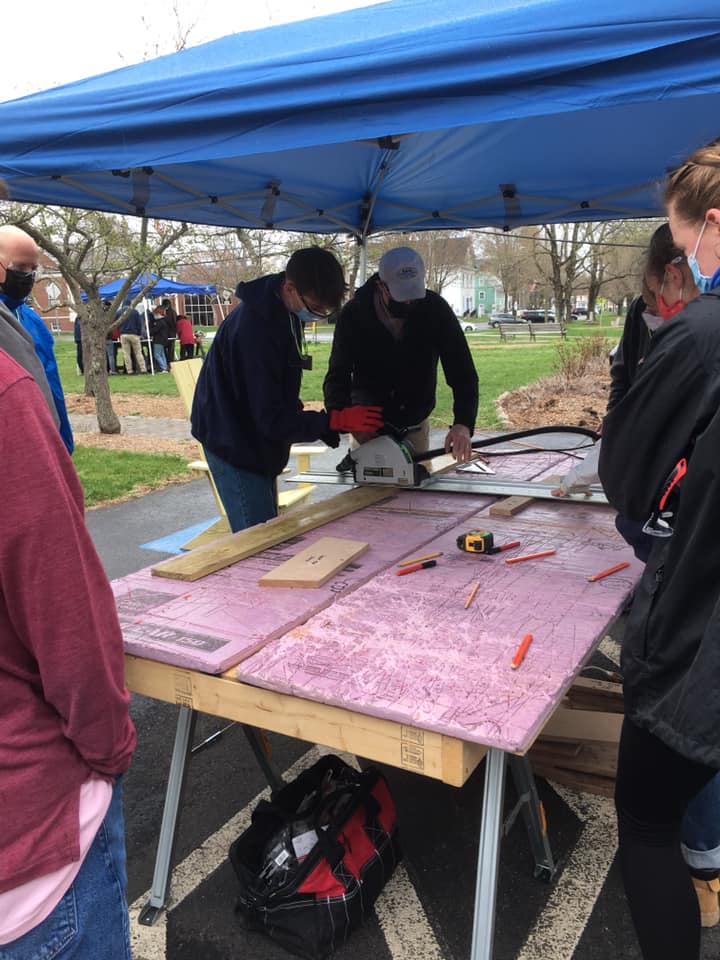 I was heartbroken, but these students are so resilient and continued to be involved in keeping the PF community connected and to continue the mission! We began making plans to be of service to one another and others nearby who are in need. And that is just what we did!
We made signs of encouragement to post anywhere and everywhere, we wrote letters to thank and connect with others, we chalked our sidewalks and driveways with words and images of hope and love, we made face-masks by the 100's, we baked cookies and brownies and rice crispy treats for Community Dining Room, we made soup to share with others, we packed pizza for Meals on Wheels, we collected socks, underwear, personal hygiene items and subway cards for New Haven's Chapel on the Green and for Navajo Nation, we collected food and donations for the Guilford food bank (filling their space at least three times), we dressed up like elves with Santa outside so kids could drive by and see Santa and give him their Christmas letters, we delivered gifts to children, we collected sports equipment, animal rescue supplies, and books to share with organizations to distribute, and we built a handicap ramp for a local gentleman who was thrilled to be able to get outside to the mailbox. Amazing! Really amazing!
Spring is here again, there was no trip to a remote location, all of us together, but we used our compassion and love of serving to create a week of being together in limited numbers to serve others in a new way. You may have seen us outside on the church lawn during April Spring Break. PF members and friends along with our committed PF adults, volunteered their vacation time to work together to build Adirondack chairs, picnic tables and benches, garden boxes and birdhouses that we will donate to New Reach Housing and Columbus House in New Haven and Bridgeport, transitional housing for people experiencing homelessness.
There were also two teams of PF students and adults working with Raise the Roof in New Haven!!
Cheers to these young people who chose to use their spring break time to serve others, people they may never meet. Their passion to serve has not been squelched by two Springs of cancelled trips.
We are looking forward to a possible service trip to Boston this summer! In a confusing, frustrating time we can choose action, love and compassion. I can't wait to see what our next PF adventure will be. I am so grateful for the opportunities and support that so many share in our PF program.
Judi Wallace.
Director of Children and Youth Ministries