Icons are created for the sole purpose of bringing us closer to God in prayer, helping us enter into the mystery of God. They are "written" (iconographers do not call it painting) according to age-old rules in form and color and can sometimes seem rigid and lifeless, even dull. There are four, pictured in this article, all by Russian iconographer Andrei Rublev (c1360-1430) that I find unusually beautiful and have grown to love over the years. I was led to them as a result of reading the reflections of Henri Nouen who wrote about them in Behold the Beauty of the Lord; Praying with Icons. How I came to purchase this book and use it in my devotional time has a back story.
In the spring of 1995, as I am nearing the completion of my first year at Yale Divinity School, I decide I want a field placement in my second year with some kind of social service agency rather than a church. I interview at several organizations but they are not "right" for me. I don't think I will learn anything or acquire any new skills. So I go again to the Field Placement Supervisor's Office to see what else might be available. She has two placements still available – both related to prison ministry. This piques my interest for I carry in my heart a checklist from Matthew 25:
I was hungry and you gave me something to eat: check
I was thirsty and you gave me something to drink: check
I was a stranger and you invited me in: check
I was naked and you clothed me: check
I was sick and you looked after me: check
I was in prison and you visited me: hmm - does that time years ago when I went with the college Gospel Team to sing at the County Jail Sunday service count? I don't think so.
One opportunity is a placement with the Resettlement Program of Community Partners in Action (CPA) in Hartford and the second is in the newly opened medium-maximum security prison for women in Niantic, York Correctional Institution. I call CPA first and speak to Sister Nancy Audette, the manager of the program who would be my supervisor. When she learns through our conversation that there is a placement available at York CI she says, "Oh, don't even think about coming here. If you have a chance to go inside the prison, do it. It's the opportunity of a lifetime."
And so with some trepidation I call Ann Koletsky, Volunteer and Religious Services Coordinator at York CI, who is the supervisor for the field placement. After a brief discussion, we agree an on-site appointment is needed for me to adequately learn about the duties of the internship and determine whether it is right for me. I give her the information she needs to obtain my clearance.
Walking into the lobby of the new prison, I give my information to the Correctional Officer at the desk and am greeted by Ann, who is a warm, friendly person. I don't recall being intimidated by the sliding panels and doors – four of them clicking and banging and locking – till we arrive finally on the prison compound. Ann takes me around to several of the housing units as she finishes up some work she has to do for the day. She chats about not looking at the big picture but at individuals, about the women actually having a better life here in prison than they do on the outside – "They are fed, clean, safe," she says. "It will take a miracle for their lives to be better." She assures me there is an opportunity for a positive ministry, bringing hope and comfort through visitation and programs I might choose to offer. Her goal she says is to teach me about Connecticut's Correctional System and the women caught in that system.
When we go to her office Ann shares with me a poem written by one of the women at York CI during a creative writing program. She wants me to see what is possible programmatically and also to learn more about the lives of incarcerated women.
Growing Up

High heels and pantyhose
What does it matter I'm twelve years old
What does it matter the things I've seen
(More than most at seventeen)
What does it matter, I can't go home
I'm a lady of the night
And I'm never alone
What does it matter, I'm all grown-up
At twelve years old I've filled my cup--
It overflows with grown-up things
like sex and booze and cocaine rings
What does it matter my eyes are black
obviously I deserved the slap
or was it a punch, a grown-up kiss
I can't remember the cause of this…
I couldn't stand, perhaps I fell
and ended up in a grown-up hell
The circle comes and turns around
and now I stand on steadier ground.
I'm all grown-up; I'm thirty-two
Now may I live like children do?
May I play and dream and sleep?
Now I lay me down to weep
for childhood games I never played
and innocence that can't be saved.
Funny how I got reversed
The child is now the grown-up who came first –
But what does it matter if at twelve
I became a woman with an innocent soul.
Twenty years later, it matters, you see
to the child within me,
who is finally
FREE
I am shattered by the poem. I stop listening to what Ann is saying. Yes, I tell her, I will think about the position, yes, I will get back to her…. really, I just want out of there!
Back in my car, driving south on Interstate 95, I begin to cry and pray, "Please, Lord, don't send me there. I can't possibly go there. I have nothing in common with these women. I am not in recovery from addiction, I do not know street life, I don't like violence; I don't even read murder mysteries. I tremble at the thought of rape, incest, child abuse, physical brutality, mental cruelty. I prefer not to know about these festering horrors of damaged lives. Please, God."
The next day I am back at Yale Divinity School and when I have a chance I go to the bookstore. I'm not looking for anything in particular, just browsing, but I find myself in the Spirituality section and pull off the shelf a book by one of my favorite spiritual writers, Henri Nouwen, Behold the Beauty of the Lord; Praying with Icons. On the cover is the icon The Savior of Zvenigorod.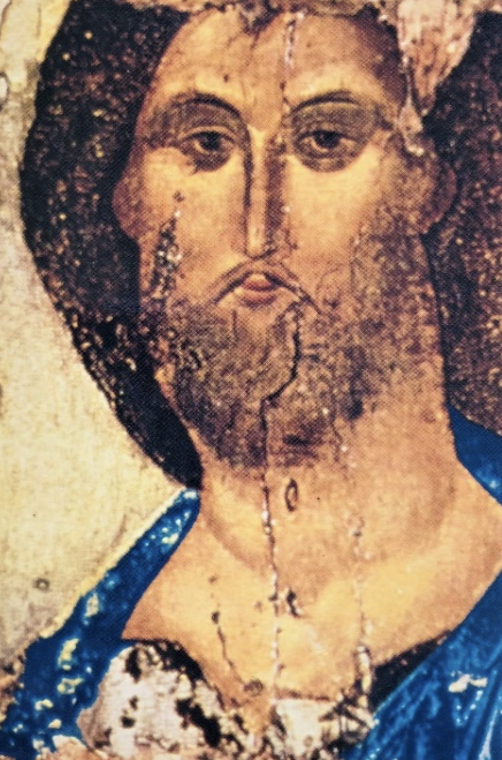 The Savior of Zvenigorod
I have never seen this icon before. The gaze of Jesus is so compelling. I gasp inwardly as the faces of the incarcerated women I saw yesterday stare back at me in this face of Jesus, seeing me, reading me, commanding me. I look and look at this face. The eyes penetrate, look deep into my heart. I am face-to-face with Jesus and see so clearly the faces of the women at York CI in his face. I hear his words, "I was in prison and you visited me." And regardless of my reluctance, my fears, I know I must go.
(And I do go – what turns out to be a blessed ministry of 16 years after graduation from YDS).
I bought the book, of course. Nouwen's meditations enrich my understanding of what I see in the paintings when I meditate with the icons but the real value of the book is the four fold-out pages of Rublev's icons: The Holy Trinity, The Virgin of Vladimir, The Savior of Zvenigorod and The Descent of the Holy Spirit. I have no wisdom about how to pray with icons. I know only that it is important to gaze at them with complete attention and an open heart. Gradually they become a part of you and begin to speak to you of the unique way in which God chooses you and loves you.
So my suggestion is that you choose one of Rublev's four icons, perhaps copy and paste it on a separate page, enlarge it to full page size, print it out and use it in your prayer time. Sit quietly and gaze. See what prayer might well up within you, what thoughts and feelings you have, how God speaks to you through the art; mostly just sit and gaze and revel in the beauty and the love of God here revealed.

The Descent of the Holy Spirit