On April 26 we received the great news from Rev. Dr. Brooks Berndt, Minister for Environmental Justice of the United Church of Christ in Cleveland, that our application to become a UCC-designated Creation Justice Church was approved by the UCC.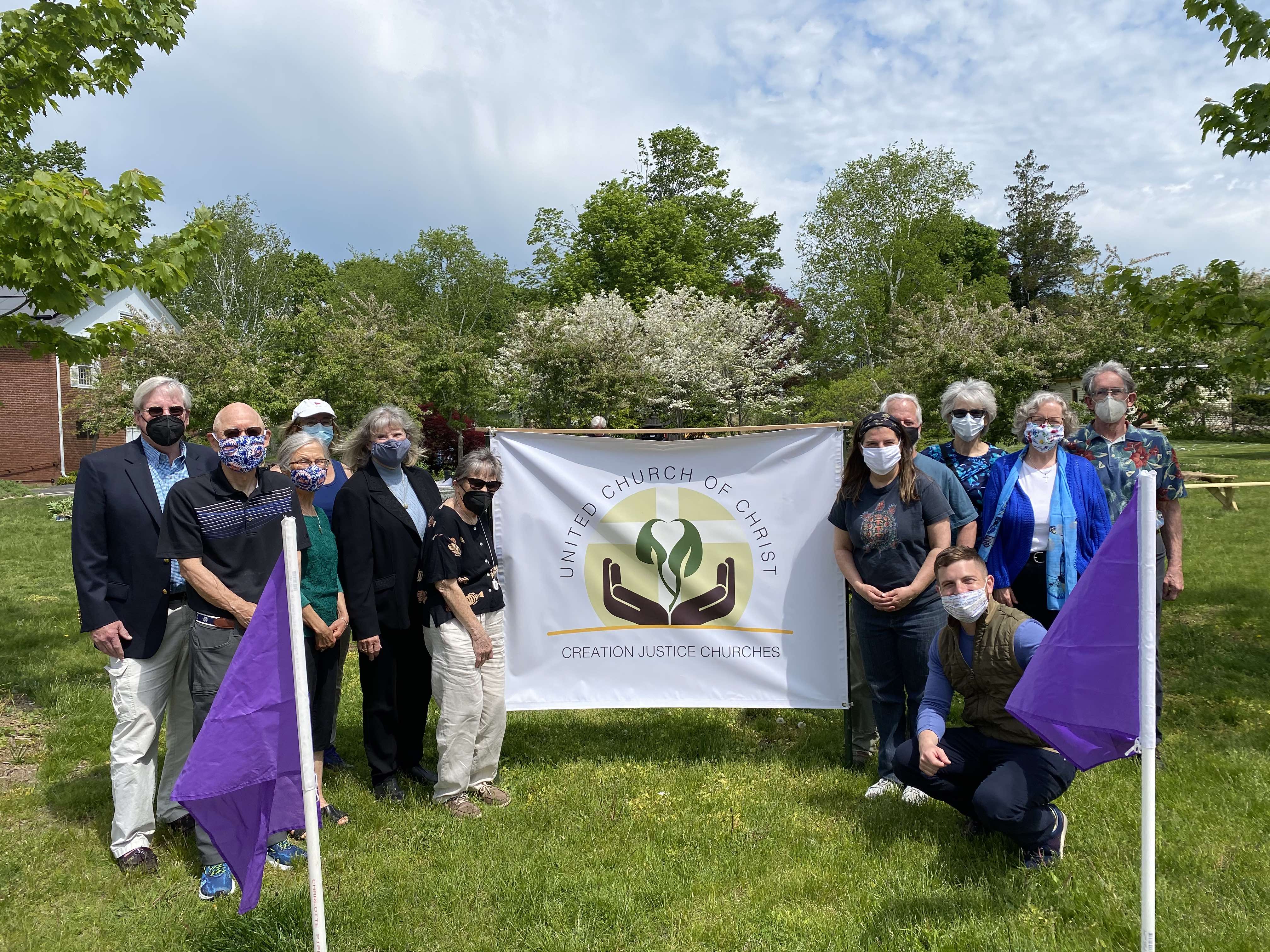 Thank you to all who supported this endeavor especially our hard-working Environmental Ministry Team (EMT) the Board of Community and Global Justice, the Church Council, Rev. Jake Joseph, Rev. Dr. Ginger Brasher-Cunningham, and all who voted in favor of our Creation Justice Covenant at the Annual Meeting in February. We are the first UCC church in Connecticut to receive this designation but we join many UCC congregations across the country who are already Creation Justice (CJ) churches.
This designation doesn't mean we can "rest on our laurels". Other CT UCC congregations will be looking to us for guidance as they move toward becoming CJ churches. And our EMT will be looking at new ways to "live out our vision" as a Creation Justice church. We'll use the new SNEUCC "Green Congregation Challenge" working on its Level 4 activities to expand our church's impact in the areas of advocacy and climate justice. We'll learn more about the Indigenous peoples who first cared for the territory on which we live and we'll discover ways our church can assist with adaptation actions to address the threats of climate change in our region. We hope to increase participation by our church members this year in the Congregation Climate Justice Voter Challenge and make every election a call for values-based voting on environment and justice. We'll write postcards to our Legislators and attend marches and rallies to safeguard our planet from further harm.
We invite you to join the EMT in these activities as we move forward as people of faith in a Creation Justice church toward a healthier and more sustainable future for us and for the generations to come.
With gratitude and hope,
Rev. Nancy Leckerling, Co-Chair EMT
The Letter of Acceptance from the UCC:
Wow! What a terrific application! Thanks so much for all that you and your congregation are doing. There was so much that was impressive and reflective of a strong commitment to creation justice. I am happy to share that you are now officially a Creation Justice Church of the UCC! In recognition of your church's designation I would be happy to send your church a large vinyl Creation Justice banner. All I ask is that I receive a photo of members of your congregation with the banner (at some point after churches are able to meet in person again). Let me know if this interests you. On a regular basis I invite churches to write an article of 300 to 500 words to share about a program or activity that they have conducted that could serve as a model for other churches. In reading your application it occurs to me that an aspect that is particularly unique and would be helpful to other churches pertains to the evolution you underwent over the past two years as your team "shifted from an emphasis on retro-fitting and education to consciousness-raising about the intersectionality of injustices-economic social racial and environmental and to faith-driven advocacy in the public square." This shift in outlook was then complemented by the institution of new practices such as the creation of the CGJ and the quarterly meetings...Thanks so much for all your work! With lots of gratitude for you and your congregation.
Rev. Brooks Berndt,
Minister for Environmental Justice at the United Church of Christ