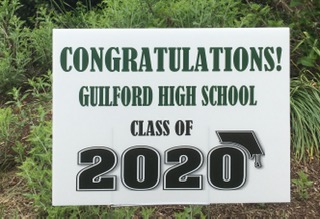 What Follows Graduation is Always Uncertain . . .

To our amazing high school seniors, there is nothing we can say or do to make up for the time you are losing in school, missing with friends, and lacking in senior year events. We imagine that shifting from making actual memories to wondering about those unfulfilled moments bring a host of mixed feelings. We hope that you hear words of encouragement as we celebrate with you during this bizarre time.

If a decade of working with teens in this community has taught me anything, it's that people your age are resilient and innovative! You can navigate multiple worlds and bounce between physical and digital spaces with ease. You embrace differences among people in ways in which some adults struggle.

You courageously put yourselves out there for the world to see. You find ingenious ways to push boundaries and challenge norms.
We feel your pain and all struggle some days. But you are not alone or forgotten. We see your hard work. We value your unique perspectives. We hear your audacious voices, cherish you, and pray for you all!

We are truly sad for you. We do believe you are a group that can plow through this in creative ways - it is who you are! There is no pandemic strong enough to silence you or dent the passion we have seen in you. Keep your head up and keep moving forward. This year may not be what you had envisioned, but it is still very much your year.

We will continue to hold you in prayer as things move and change going forward. We are proud of you, people learning to love others, seek justice and equity, and recognize the privilege of most lives on the shoreline. In addition, you have worked hard and your accomplishments are many. We look forward to what is coming next.

Congratulations on your graduation, Class of 2020!!!

Peace, Judi and First Church Family

CHURCH MEMBERS:
Palmer Anderson
Katie Finnegan
Evan Gerritz
Ben Guarino
Dylan Hegedus
Aiden Kilheffer
Noah Kilheffer
Catherine Larrow
Evan Laughlin
Carter Leete
Peter Loyd
Grace Newman
Eva Ott Hill
Ethan Shaw
Charlotte Wiley
PF MEMBERS:
Richie Tillier
Molly McLaughlin
Angie Rusconi
Gabe Cone
Julia Gangemi
Jade Fischbach
Annalise DeRusso
Rohan D'Souza
Emma Bonz
Elle Petra
Ava Bucci
Anna Cerino
Jack Clancy
Ben Criar
Shayla Flynn
Jackson Fencil
Leo Gilbert
Lauren Hess
Stephen Kegel
Delanney Kenney
Lily Mackey
Morgan Mancuso
Ava McClure
Matthew Moore
Isabelle Paris
Abby Pinckney
Dominic Riccio
Brayden Santa Barbara
Luke Strandrowicz
Click here to read the whole Steeple Newsletter for June 3, 2020.