Send in the Clowns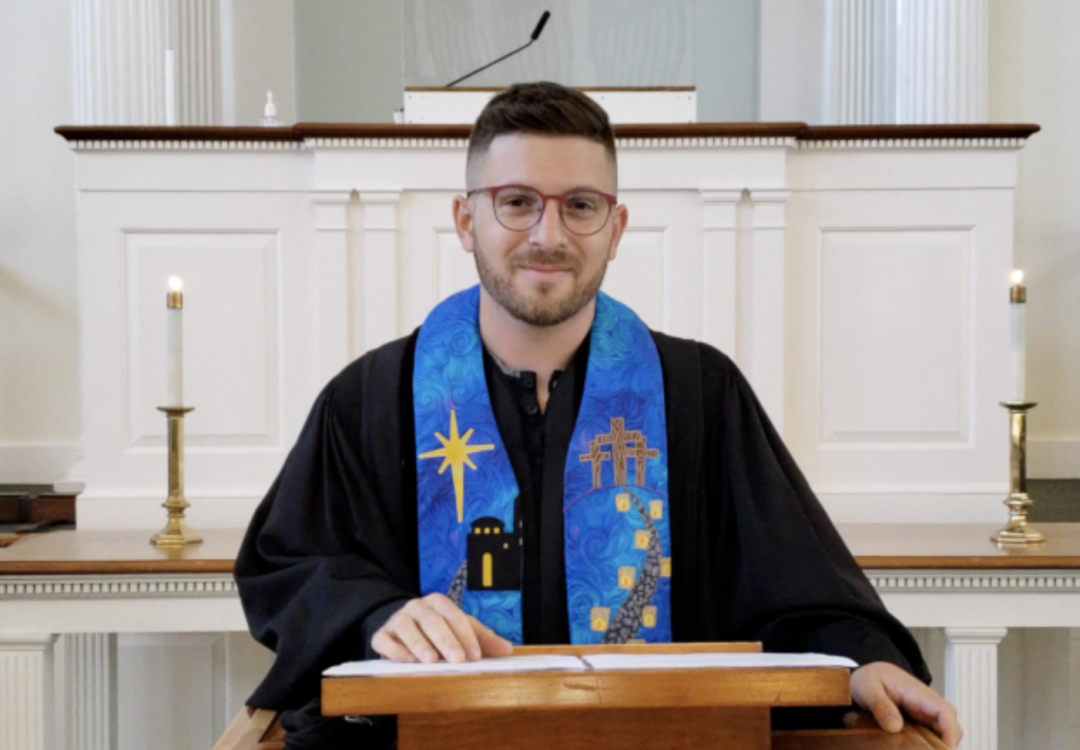 Speaker: The Rev. Jake Joseph
October 11, 2020
Click here for the full worship bulletin for Sunday, October 11, 2020.
Send in the Clowns
The Rev. Jake Miles Joseph
First Church Guilford, Connecticut
Matthew 22:1-14
Have you ever had a song that gets stuck—it gets stuck in the gears of your mind, flavors your memory, and becomes synonymous with a moment? I mean—have you ever had a song associated with a certain time in life? An example is that we all have favorite Christmas Carols or songs that evoke our memories of cookies and family. Certain songs are tied likewise to deceased loved ones or memorial services. I know that On Eagles Wings always brings me to those tender memories. Many of us have songs that we associate with our couples, weddings, or our relationships. Mine and Gerhard's is the salsa standard from our wedding: La Vida es un Carnival (Life is a Carnival) by the great Celia Cruz.
Recently, however, people have started telling stories about their quarantine songs. Ginger and Milton have both independently preached sermons about their song through these past seven months of pandemic and quarantine—Stuck in the Middle with You by Stealers Wheel. "Trying to make some sense of it all, but I can see it makes no sense at all…Here I am stuck in the middle with you." What has your pandemic year 2020 playlist or mixtape (depending on your generation) been for 2020?
Personally, I have a song that has haunted me since all this began in February. I have woken-up in the middle of the night singing it and found myself humming it during worship services and Zoom meetings. This—the year of the pandemic, the year of the political free-fall, the year of the unexpected, irrational, painful, existential crisis—most of all the "year of the mirror" where we have seen things, others, and ourselves plainly. The year 2020 will forever be stamped for me with the lyrics, melancholic melody, and the story of Sondheim's Send in the Clowns from the musical A Little Night Music.
Let me be clear—the musical itself, A Little Night Music, isn't really anyone's favorite! There isn't much to love. The story and the characters are a mess. It is neither a happy love story nor a vengeful story with clear good to root for and evil to deplore. It is more of a tortured tome. Just like our Scripture today from Matthew 22, and like this whole year of 2020, it is about a party that has gone terribly wrong without a clear hero or villain.
The play takes place at the country home of Swedish elites confronting their own past and true selves as unexpected and unwelcome guests arrive. It is about lovers who cannot find each other, simmering conflict, regret, misunderstood intentions, and the slow and startling coming of awareness (the mirror) that pride, hubris, and denial have overshadowed truth. Like the year 2020, the play serves as a mirror revealing Truth and true feelings. Does any of this sound familiar today? Would someone please just send in the clowns already for 2020. There really ought to be clowns.
Finally, near the end of the story, one of the characters named Desirée who had been most unaware of her own role, complicity awakens to the moment. This is an idea explored by the 17th Century French playwright and philosopher, Molière, who would place Desirée among "Les Précieuses ridicules" or "Ridiculous Precious People." These are people who think that life is but a social game unaware of the consequences of their actions and Tweets. Desirée, however, finally sees herself and the world for what it is (both the beauty and ugliness mixed-up together)—she starts to sing:
"Isn't it rich? Are we a pair? Me here at last on the ground, you in mid-air. Where are the clowns? Isn't it bliss? Don't you approve? One who keeps tearing around, one who can't move. Where are the clowns? There ought to be clowns? Don't you love farce? My fault, I fear. I thought that you'd want what I want… Sorry, my dear! But where are the clowns Send in the clowns … [oh!... she looks up] Don't bother, they're here"
Send in the Clowns starts out as a plea to send in comic relief—this must be a joke! Send in the clowns—the fun and the distractions from the facts of the moment. Where are the clowns? Then, slowly as she sings, Desirée becomes aware that she is actually one of the clowns. The reality is that ridiculous. "Don't bother they're here," she sings halfway through the song. As Colton Pometta, a writer with the New York Festival of Song overserves in a recent article, "As Desiree rummages through her life's disappointments in this ballad, she realizes what fools she and [the others] are."[1] I finally figured it out—the reason nobody really loves A Little Night Music is because it is a musical about 2020…just like our Scripture.
Our Scripture is so unpopular among scholars, A Little Night Music of the Gospel According to Matthew, that almost all of the progressive academic commentaries I own choose to skip it altogether. There is only way for me to interpret the Gospel Reading for this Sunday from Matthew Chapter 22:1-14 and it helps me understand why both this Scripture passage and this strange song from an obscure musical have captured my attention for this moment.
Jesus is living a very 2020-like experience in Matthew 22. Context is everything.
In the David L. Bartlett and Barbara Brown Taylor edited Feasting on the Word analysis of this passage, they say, "As the context makes clear, Jesus intends to put the fear of God into… [the] authorities with whom he is beginning a life-and-death disputation…the parable oscillates between overt inciting of apprehension and self-scrutiny, on the one hand, and implicit reassurance on the other…"[2] It is a conflicted and contradictory parable. Jesus oscillates.
We have to remember that placement in the narrative matters. The parables don't exist out of context. By this point, Jesus has already flipped over the tables in the Temple! By doing that, he scared off any and all political allies he may have had left, started fights with friends and enemies, and in desperation and rage offers four absolutely grim parables, including this wedding story, without clear lines of good and bad. This is not the compassionate, creative, and clever Jesus problem solving with grace from the Sermon on the Mount. Jesus might be reaching burnout.
Jesus is fed-up and no longer has any ability to tolerate anything he doesn't approve of like vendors in the temple — "a necessary evil" as the people of the time would have called it. All of the happy parables with clear interpretation are from before the tables were turned upside down. Jesus is experiencing a 2020 moment of unknown, seeing things for what they really are (clowns everywhere he looks), and he is facing dire consequences. Like us, facing injustice and clowns everywhere, our fuses and patience for clowns is rather thin. After the tables are flipped, he oscillates and tells these stories in which it is hard to find the Realm of God and good. Jesus, like us, is distracted by the clowns and therefore become clown-like ourselves.
The stories we tell in life so often reflect our current outlook and circumstances, right? In this story, and the other parables Jesus tells between the table flipping and before his death, everyone is a clown, everyone is wrong, and all is uncertain. Counter to traditional interpretation like that of John Calvin, many modern scholars from our tradition re-examine Matthew 22 and don't see the king (violent, volatile, and cruel) as representing God—but rather he represents the confusion, clownishness, and the contradictory behavior of the authorities and the powers of the world. This is a critique of the authorities Jesus is fighting. What do we know, after all in 2020, about contradictory and dangerous behavior of leaders and authorities? That is the point of this passage.
What we see clearly in Matthew 22:1-14 is an impatient Jesus. This is an attack of those who misuse power, yes, but also we see that Jesus is on a rant that doesn't reflect his best self and best practices and usual creative way of communicating. How many of us, even in doing good work, aren't our best selves these days? We remember the moment and the anxiety. These 2020 parables (post-table flipping) do not represent Jesus at his best. Just like, even our work and stories and politics right now as we face clowns in authority, we are not at our best. What a mirror moment 2020 has become.
Thomas Porter, author of The Spirit and Art of Conflict Transformation: Creating a Culture of JustPeace writes that this isn't such a bad thing that our Scripture today is about conflict and poor communication. He writes, "The starting point [towards transformation] is our attitude toward conflict. Instead of viewing all conflict as negative or destructive, we can see conflict as a natural part of God's creation, necessary for constructive change, growth and revelation."[3]
Our Scripture from this morning is Jesus likewise in a space of fear, necessary conflict, political free-fall, and anger. This isn't Jesus in his happy space. This is Jesus at his most Enneagram 8 realness! Perhaps more than being the year of existential crisis or pain or isolation, 2020 has become the year of the mirror where we see ourselves and others for whom we and they really are—we see our own clown-ness and the clown-ness of everyone else as well.
Have you ever had a song that gets stuck—it gets stuck in the gears of your mind, flavors your memory, and becomes synonymous with a moment? I have—it is about recognizing the absurdity of the moment, seeing the clowness of the authorities and of ourselves, and yet at the very end, after all else is said, it ends with a nod of hope.
The very last line of Send in the Clowns, Desirée, looks up and like so many of us—she utters four words of hope, a prayer—the motto and mantra of 2020: "Well Maybe next year…"
But where are the clowns? Send in the clowns! There really should be clowns! Well, maybe next year…"
During this year of the mirror, of clowns, of table flipping, and understandable rage—may we all gain a better understanding of our own motives, like Desirée, and truth and say this prayer together. "Well, maybe next year." This is Desirée's prayer, it is Jesus prayer for change, and it is our prayer for this time of so much uncertainty.
Amen.
[1] http://blog.nyfos.org/stephen-sondheim-send-clowns
[2] David L. Bartlett and Barbara Brown Taylor, edits, Preaching the Revised Common Lectionary: Feasting on the Word Year A, Volume 4 (Louisville, Kentucky: Westminster John Knox Press, 2011), 166.
[3] Thomas Porter, The Spirit and Art of Conflict Transformation: Creating a Culture of JustPeace (Nashville, Tennessee: Upper Room Books, 2010), 5.