A Hard Candy Christmas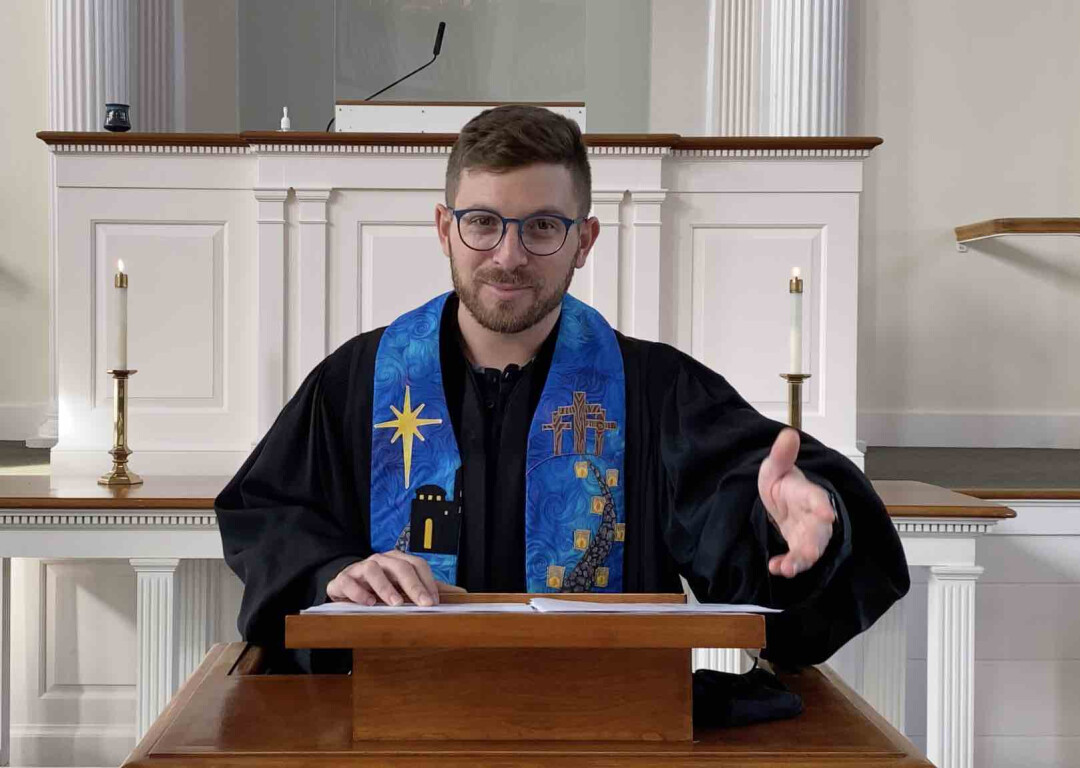 Speaker: The Rev. Jake Joseph
November 22, 2020
Sermon Sunday, November 22, 2020
The Rev. Jake Miles Joseph
Hard Candy Christmas: Praise as a Spiritual Practice
Today is the last Sunday of what the lectionary calls, "ordinary time," which started at the beginning of June with Pentecost. Now, I don't know about all y'all, but looking back over the past six months—I don't see what was so "ordinary" about any of it. More importantly, this Sunday (today) is officially the New Years Eve of the Church Year—the last word on our walk through the Jesus Story before we start over again next Sunday and the Advent waiting for Jesus. Advent, of course, is supposed to be the season of waiting patiently, contemplatively, and quietly for the coming of Emmanuel. Again, I don't know about you—but it feels like Advent (the season of patiently waiting) started back in February, and we are still waiting and waiting and waiting for the birth of Jesus to save us from the status quo.
Next Sunday, Advent 1 is the start of a whole new church year—filled again—with all of the promise and hope, joy, love, and peace of Christ. I am so ready for that. So, then, what does the lectionary (the traditional, annual walk through the Bible) leave us with at the end of this most unusual of ordinary times. What is the last word? We are left with the ultimate Psalm of Praise—#100. After a year of Lament, today we find ourselves being called back to the Spiritual Practice of Praise.
Dietrich Bonhoeffer, the Lutheran martyr-theologian, and World War II German dissident, wrote in his book, Life Together, that, "The Psalter is the vicarious prayer of Christ for his Church…The prayer belongs, not to the individual member, but to the whole Body of Christ…That is why the prayer of the psalms belongs in a peculiar way to the fellowship. Even if a verse or a psalm is not one's own prayer [if you don't feel praisy today], it is nevertheless the prayer of another member of the fellowship; so it is quite certainly the prayer of the true…Jesus Christ. In the Psalter we learn to pray on the basis of Christ's prayer. The Psalter is the great school of prayer."[1]
Today, then according to Bonhoeffer, we are called to offer a prayer of praise as the Body of Christ even if it isn't exactly how we feel today. Praise is a Spiritual Practice of the community for the sake of all of us—just like the Psalms of Lament are for other times. What is it that we have to learn from the great school of prayer for ourselves and our world as we enter Advent?
I did a study of the Hebrew, and the word in Hebrew translated in our Scripture from Psalm 100 as, "Make a joyful noise," is used 42 times in the Hebrew Bible or Old Testament. That is a significant amount of reoccurrence in Biblical scholarship! This phrase is translated often as "shout, cry, scream, vocalize, raise a sound, give a blast…have a blast!" We are talking about embodied experience of being Christian. This is praising God, a creator, beloved, giver, lover, essence, breath, sustainer, redeemer, healer with as a whole person experience. This is a psalm about finding hope again and the fundamentally human, necessary Spiritual Practice of Praise. We need to have praise in our lives. In times of so much Lament, we are left on this theological New Year's Eve with a call back to the fundamentals of praise. But what is praise? Enter God's gates with thanksgiving and God's courts with praise.
The English word from our translation, "praise," is interesting! It comes from the same Latin root as the words both—prize and price. The root is "pretium" meaning an assessment of worth or value. From an etymological perspective, when we praise God, we are assessing the worth or the prized-ness of God's goodness in our lives. To praise is to sing, to shout, to pray, but it is also to affirm value and importance. It also means, by the act of offering praise and worshipping God, we recognize our worthiness and our own Sacred Worth to God the Creator who desires our praise and relationship.
To praise is a two-way street—it both assesses the depth of our love for the Divine while it also affirms our own worth as beloved people of God. To praise is to validate the prize of life and the relationship with the Sacred. This occurs 42 times in Hebrew Scripture. This is a fundamental part of what it means to be human, and it has been missing from our lives now for too long. We must learn the Spiritual Practice of praise—finding hope for the Divine love of self and God even in the difficult times. We must.
One person, a secular saint of sorts, who speaks the language of the Sacred and understands Praise is the great Dolly Parton. They say that Psalm 100 is a favorite Psalm of musicians—people who have especially struggled in these times. Dolly once told a story in 1986 she called "The Bible bringing her out of the shadows," of a low point in her life while confronting her depression. She even seriously contemplated taking her own life. As she tells the story, God sent her puppy dog into her room and interrupted her with joy as she realized that dog is God spelled backwards.[2] The book, The Faith of Dolly Parton[3], described this period of her life. After that, she read the whole Bible cover to cover, and she found courage and praise again and has spent the rest of her life sharing the Gospel of Praise—worth of self and the prize of God with others.
My favorite Christmas song isn't a hymn, but is a Dolly Parton song. I know that makes me a bad clergyperson, but I don't care. It is a song that my mom, sister and I knew by heart growing-up and would sing on Christmas morning.
Dolly grew-up in absolute poverty and once said, "In the midst of the direst poverty and despair, the human spirit, especially that of Children, will find some hope to cling to, some promise of a better day." I believe that is the essence of praise. While she didn't write the song, Dolly made it famous as she sang it from the heart from her own experience. Reflecting on her own childhood, when the only treat they could afford wasn't cake or cookies, but simple hard candy—and in they found that hope and joy and praise/ thanksgiving of children. Praise—both the worth of Sacred in our lives and our own worth.
My favorite Christmas Song is the essence of finding praise in the midst of even the poverty and simplicity of a Hard Candy Christmas goes like this:
Hey, maybe I'll dye my hair
Maybe I'll move somewhere
Maybe I'll get a car
Maybe I'll drive so far
That I'll lose track
Me, I'll bounce right back
Maybe I'll sleep real late
Maybe I'll lose some weight
Maybe I'll clear my junk
Maybe I'll just get drunk on apple wine (Bishop's Orchards of course)
Me, I'll be just
Fine and dandy
Lord it's like a hard candy Christmas
I'm barely getting through tomorrow
But still I won't let
Sorrow bring me way down
I'll be fine and dandy
Lord it's like a hard candy Christmas
I'm barely getting through tomorrow
But still I won't let
Sorrow get me way down
We have been living in a particularly quiet, separate and isolating time, and we are likely to continue for a while. The scientists tell us we are not only in for a Hard Candy Christmas this year, without the caroling and the family and the travel and the hugs… but also a hard candy Thanksgiving, New Years, Valentine's Day, and maybe even another Hard Candy Easter.
And, yet, we are called like Dolly Parton and like Dietrick Bonhoeffer to the Spiritual Practice of Praise from Psalm 100—to not see just the hard candy (the simplicity and the lack of all the things) as lament, but to find the praise of Psalm 100. Make a joyful noise to the LORD, all the earth. Worship the LORD with gladness; come into God's presence with singing and God's court's with praise!
As we face Thanksgiving, I invite you to join me in singing and in working on our Spiritual Practice of Praise as an essential lesson in our school of prayer:
Me, I'll bounce right back!
Lord it's like a hard candy Christmas
I'm barely getting through tomorrow
But still I won't let
Sorrow get me way down!
Praise be. Amen.
[1] Dietrich Bonhoeffer, Life Together: The Classic Exploration of Christian Community (New York, New York: Harper Collins Publishers, 1954), 46-47.
[2] https://www.biblegateway.com/blog/2018/06/dolly-partons-crisis-of-faith-and-how-the-bible-brought-her-through-the-shadows/
[3] https://biblegateway.christianbook.com/the-faith-of-dolly-parton/dudley-delffs/9780310352921/pd/352921?p=1172374&utm_source=bg&utm_medium=blog&utm_campaign=bookpromo
© 2020 Jake Miles Joseph, all rights reserved. Please contact for permission to reprint, which will typically be granted for non-profit uses.