Corn, Soy, and Jesus Loves Me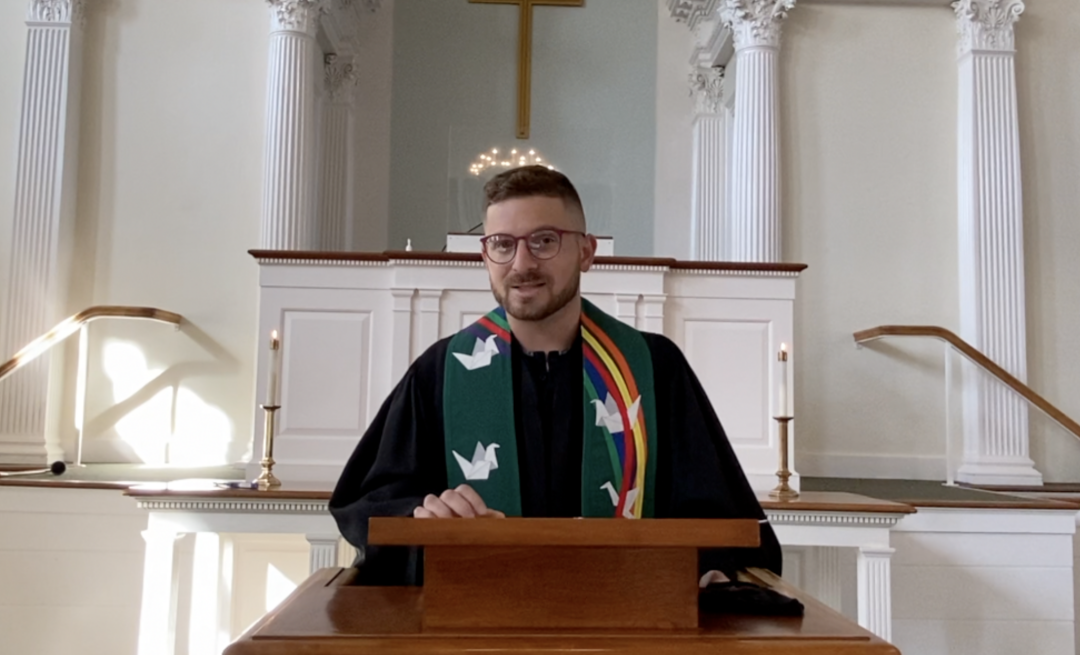 Speaker: The Rev. Jake Joseph
November 8, 2020
Sermon for Sunday, November 8, 2020
The Rev. Jake Miles Joseph
Corn, Soy, and Jesus Loves Me
Scholars Walter Bruggeman, David Petersen and others co-edited a fabulous book about the context of the Old Testament [or Hebrew Bible] called, A Theological Introduction to the Old Testament. In it they help explain Ecclesiastes, a part of the "Writings" Section of the Hebrew Bible, and perhaps the strangest book in our entire cannon of Scared texts, in this way, "This text is at the very margin of the [Bible]. At the margin, however, it performs an important theological function. It continually reminds established tradition that everything must be rethought and reformulated…Faith of the kind the wisdom teachers practice is never settled but is endlessly rethought, because lived experience finally is the grist of faith."[1]
I believe this moment calls us as humans, as Americans, and especially as Christians to return to our roots and reformulate—to look at our testimony of lived experience. After clenching our fists in rage and anger without taking a second to breathe together, have we stopped for a second to see how our faith has changed? As Christians, I believe we are called to remember the basics of our faith—what is meaningful? What makes us believe in Jesus Christ now? What moment called you to a life of Christian love, community, and faith? Here is part of my story:
"Hello, sir, I'm here from the regional hospice, the chaplain intern. I called and spoke with your family. Um. I am here to offer a prayer." He looked up questioningly, appraisingly, unapprovingly. "Do you even know the difference between a field of corn and a field of soy, son?
The man in the white Skyker hospital bed was in the middle of his living room looking at me—his 21-year-old hospice chaplain intern standing uncomfortably at his bedside clutching my Bible. I could hear the wind-chime outside overlooking the still snow-covered, fallow, February fields. Somewhere between Des Moines and Iowa City—miles from any town, I was then schooled in the difference between soy and corn at every stage of growth. And after he taught me what he needed to teach me, he only then allowed a prayer and a song from that awkward, young, ignorant chaplain intern.
You see, I didn't receive my call to ministry in a place that looked anything like Guilford, or my own life or my family or my progressive outlook. I was called to ministry in rural Iowa surrounded by corn, hospice death, and a different world from what we see here in Greater New Haven. After returning from studying abroad for a year in France, I returned to my job at Grinnell College working for the Dean of Religious Life and Chaplain of the College, The Rev. Deanna Shorb. Deanna and I found out within a couple of weeks of my return from France, that I had somehow accrued enough credits to finish college a full semester early. Wow! What does an 21-year-old do with a semester of free time?
Knowing that I would be starting divinity school in Atlanta in the fall, Deanna and her friend the chaplain of the four-rural county regional home hospice, a Presbyterian, named Susan Sanning arranged and conspired for me to spend half of a year as a chaplain intern while I waited to walk with my class in May. We found off campus housing through a member of the UCC church who agreed to put me up and provide meals, the hospital and college cobbled together a small grant, and before I knew it—I was an un-seminary trained, fresh French philosophy major, full-time hospice chaplain in the most rural parts of Iowa in the dead of the coldest winter in 20 years. In my little Saturn, I was sent off to Tama, Monte, Kellogg and places beyond, to share the love of Jesus with the sick and dying. I learned a lot about rural poverty, the feeling people shared with me that places like Connecticut didn't care much about, or for, places like Iowa. I learned about forgottenness that semester. I didn't however intend to go to Iowa for that kind of lesson.
I chose Grinnell College for matriculation in the autumn of 2007 specifically because it has the oldest and first undergraduate political science department in the world, a long traditional of progressive and liberal activism, and because I could work on campaigns during the 2007 caucus. I intended to major in political science and go on to law school. But then… I picked the wrong campaign to work for (some problematic Senator from North Carolina) and made useless connections. I didn't like the political science professors and found refuge in the comfort of the French Department. Finally, the chaplain's office became my home and work. "Jesus loves me, this I know…" AND I am not supposed to be someone Jesus loves… so didn't I have a call to share that?
So, I found myself standing by a bedside in Poweshiek County learning about how to plant soy and corn from a person with whom I had nothing in common. It seemed absurd and pointless and meaningless. Why had I spent four years tearing my hair out learning French verb conjugations to listen to this? I was confused, but I came back day after day and just listened, breathed, shared common space. My job was to be his chaplain—a human with an eye to the sacred. I took a deep breath, put aside my ego, and listened to what seemed meaningless. That listening was my prayer and a sign of coming to understand someone very different. That was just one of many soul-turning, seemingly meaningless, liminal "thin space" times on in the subfreezing winter of rural Iowa.
What does this have to do with our Scripture passage today from Ecclesiastes that Ginger read? This is a passage that is easy to mishear, to over-react to, and to find yourself discouraged by at first—meaningless as a bad thing rather than a glimmer of what can reconnect us to new ways of seeking God. Sometimes we need simplicity and meaningless conversation to find trust and the truth. Here is the deeper lesson. Bruggeman and Petersen write,
Ecclesiastes is perhaps a document of the absurd, suitable for times of absurdity. Indeed, technological modernity, if one notices can almost eliminate the cadence of faith. In our current cultural setting, we are witnessing much loud, bold, strident faith. But surely part of that boldness is an appeal against the cold emptiness that is so close at hand in our time. And while we may imagine a recovery of serious public faith, we are not so immune as to not notice that cold technology, in the name of scientific progress, may produce a silent world without communication, a lonely world without community, and an empty world without communion…And when there seems no more access to what is ultimate, one may have determined recourse to what is penultimate. That is not much. But it is something, the very something given here in this text…It is important to recognize that Ecclesiastes, for all of its negativity is engaged in the process of negotiating between settled truth and new experience… Ecclesiastes lives with the horizon of God.[2]
Ecclesiastes lives with the horizon of God. Those words were written in 1999 with a revision in 2005, but how much truer are they for us today?
The words of the Teacher,[a] son of David, king in Jerusalem:
2 "Meaningless! Meaningless!"
says the Teacher.
"Utterly meaningless!
Everything is meaningless."
But there is another, contrasting translation of the first two verses that reframe the whole meaning in the Hebrew. Vapor, or breath, says the teacher—everything is vapor or breath. Everything is the chasing of the winds and the breaths of God and there is a profoundly liberating meaningless in it. It isn't about my meaning or your meaning—it is about being itself! It isn't about right and wrong or good and evil—it is about being and breathing. As my professor of Old Testament or Hebrew Bible at Emory said of this passage and its connections to older parts of the Bible, "Everything is the breathing that we share and that is God in Hebrew…" It is all in common in the end and beyond the understanding of meaning.
Meaninglessness… breathing! Everything is the breath, the wind, the vapor… the common life found in the Divine Source of all things. To find this, in times when we are at the horizon of God, we must be okay with moments grounded deeply in the meaningless.
Today, we go back to basics… back to breathing in the simple things we know to be true beyond country, beyond politics, beyond denomination, beyond anything partisan—because we have to start over with faith in these absurdist times. Church, Jesus Christ loves you. Do unto others as you would have them do unto you. God is love. Nobody can separate you from the love of God. The universe is filled with mystery that only God knows. We are called to be disciples. Everything is breath… utterly just the breathing we share.
I had spent four years being one of the least brilliant students at a self-proclaimed elite, progressive liberal arts college. I had spent four years fighting for my own worth through grades and semesters with French verbs, accent marks, and syntaxes. And then, suddenly, I found myself holding vigil at the bedside of a local farmer who didn't care a lick about any of that. He had barely ever left his county save for a once annual trip to Des Moines to go to Merle Hay Mall for Christmas shopping. He wanted to know if this chaplain understood what mattered to him—family and the land. He never got to know me—that wasn't the point of a chaplain. I am sure he would have disliked me greatly and sent me away if he had asked, but he knew not to ask. So, instead we talked about the fields.
Our prayers together, until the last day, consisted of him telling me about farming and me listening. This is where I saw the horizon of God in the relationship and simple breathing. And then on his last day, my last visit to the windswept farmhouse—he asked for a song that he was pretty sure I should know how to sing—"being a chaplain and all…"
Jesus loves me! This I know, for the Bible tells me so.
Little ones to Him belong, They are weak, but He is strong.
Yes, Jesus loves me! Yes, Jesus loves me!
Yes, Jesus loves me! The Bible tells me so.
And he died. Corn and soy were the prayers of his life—simply lived—grown—seasonal—breathing in the love of Jesus. Ecclesiastes lives with the horizon of God. Meaningless conversations will come back as we find ways to heal our world and our public health in the years ahead, and with those openings… so will the opportunity to meet as humans and find the Divine in the nonsense and the absurdity of this situation we call life. Amen.
[1] Bruce C. Birch, Walter Brueggemann, Terence E. Fretheim, and David Petersen, edits., A Theological Introduction to the Old Testament (Nashville, Tennessee: Abingdon Press, 2005), 420-421.[2] Bruce C. Birch, Walter Brueggemann, Terence E. Fretheim, and David Petersen, edits., A Theological Introduction to the Old Testament (Nashville, Tennessee: Abingdon Press, 2005), 420-421.